The At Home Chef
April 22nd—2020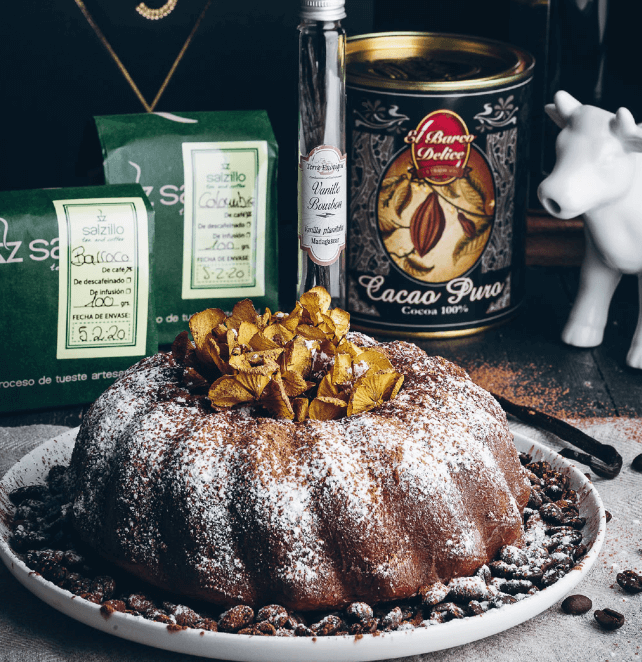 Cooking can be one of the most therapeutic at home activities. Not only is it one of the most creative things you can do, it can also be quite relaxing and a fun way to spend time with your family.
We are always inspired by our community so we thought you might like try one of our favorite recipes from Raquel Carmona, Spanish Photographer, Food Stylist.
Her Coffee Sponge Cake is beyond delicious, perfect for any time of day and a great way to say I love you. Plus it is really easy to make and uses ingredients you probably already have at home.
Ingredients
125g or 1 cup of flour
4 eggs
150g or ¾ cup of sugar
3 tablespoons of cocoa powder
50ml or a ¼ cup of freshly brewed coffee
30g or a ¼ cup of soft butter
1 vanilla bean or 1 teaspoon of vanilla extract
1 teaspoon of salt
1 teaspoon of baking powder
Powdered sugar for serving
Instructions
Preheat the oven to 200 degrees Celsius or 400 degrees Fahrenheit.
Brew the coffee and reserve. Cut the vanilla bean lengthwise and remove the seeds.
Put the eggs, sugar, salt and vanilla seeds or vanilla extract in a bowl and whisk over a bain-marie until the mixture expands to double the volume. To speed-up the process, use and electric mixer.
Remove from the heat and add the coffee and the soft butter, while continuing to mix slowly until totally incorporated. Add the sifted flour, cocoa and baking powder and mix until even and smooth.
Grease a mold pan and pour in the batter. Bake for 45-50 minutes at 180 degrees Celsius (350 Fahrenheit) or until the crust is golden. Pinch the cake or lightly press the surface to make sure it is done (it should bounce back like an actual sponge).
Remove from the oven and leave on a cooling rack before removing the mold. Sprinkle with powdered sugar and cocoa before serving.
If you happen to be at home on your own, this is a fun recipe to try with friends over video conference too.
Don't forget to indulge a bit yourself!