Popping Up With Berluti
March 11th—2020
We are excited to introduce the Berluti Footwear Pop-Up at our Serrano 52 Man Store in Madrid.
Berluti is one of the world's most iconic luxury houses, launched 125 years ago, by Alessandro Berluti. Known as a bespoke shoes master, the brand has stood the test of time with a unique combination of technical skill and creative flair.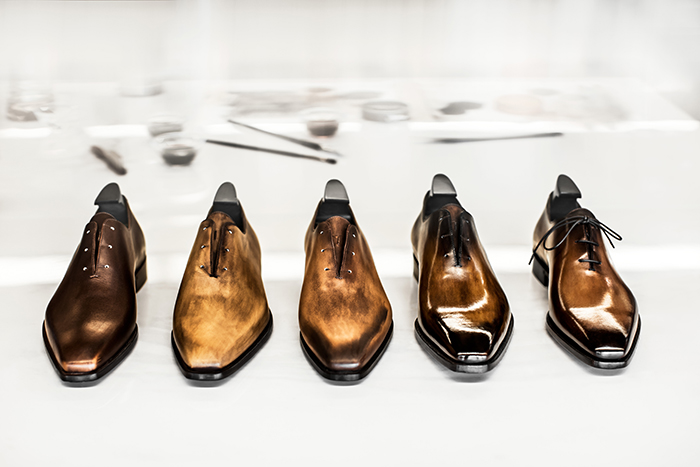 Behind The Berluti Patina
The first bespoke shoe brand to break the 'brown for day, black for night' rule of menswear and introduce color, Berluti continues to be the leader in innovation. The trademarked Berluti Patina, introduced in the 1980s by Olga Berluti, was the result of many techniques for coloring and bleaching leather, through the application of essential oils, pigments and dyes.
Olga thought nothing was more beautiful than a shoe burnished by time, whose color was starting to wear away. "Only those possess a soul," she said. By developing a worn-away, new palette of colors, each shoe became as unique as the man who wore them.
Venezia Leather
In order to produce patinas that gleamed like Japanese lacquer, Olga Berluti also invented Venezia Leather. A leather so supple and fine, made from the most exceptional full-grain, uncoated skins, that it becomes the perfect canvas for unbridled creativity. Using an exclusive tanning technique developed to give each shoe a particular flexibility and adhesion, each pair isn't just a work of art, but represents pure function as well.
Care Guidelines
Properly caring for the patina is of the utmost importance that is why we recommend that clients who own shoes in our signature Venezia Leather remember one of the House's oldest care rituals: the first patina. Once the shoes have been worn about fifteen times, and before the application of shoe care cream of any kind, the first patina makes it possible to stabilize the shoe's color and refine it with respect to the creases created by the wearer's first impressions on the leather. It is in this way that your patina and your shoes will truly be unique. It is our pleasure to offer this care ritual in all the Berluti Boutiques upon presentation of the "First Patina" card offered when you purchase your shoes.
Afterward, we recommend that you return your shoes to our workshops twice yearly for general upkeep.
The Berluti Pop-Up will be open for two weeks, starting March 10th. During the first weekend, starting March 13th, a Berluti colorist will be present to perform Patina service and to personalize your selection. We can't wait to share this experience with you.